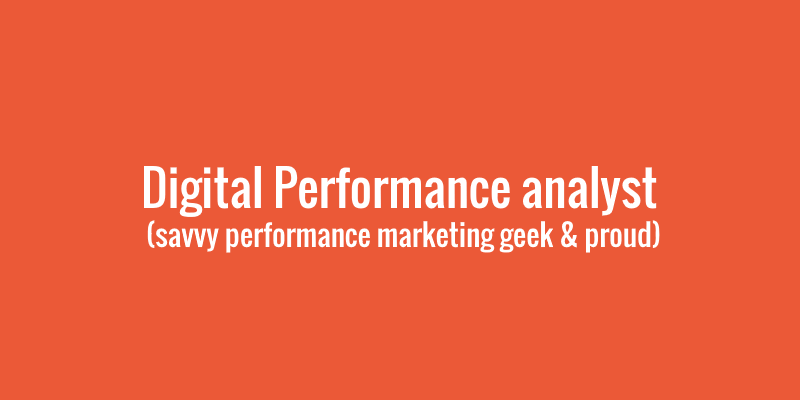 Passionate about  digital marketing? Would you like to work for leading brands? Would you like to help build a company?  
Why would you work for CLICKTRUST?
We are known for expertise and excellent service rather than being a "jack of all trades and master of none". Our team is able to go into details that most agencies/clients simply don't have the knowledge or passion for. Our client portfolio consists of a mix between massive brands like BNP Paribas Fortis and ambitious upcoming brands. We truly believe in "thinking like a customer". We take pride in our proactivity & our thirst for knowledge.
CLICKTRUST has a vision for the future of digital performance marketing - A vision that has grown over the years, and that has been built together with the team.
Working here  means contributing to this vision, helping to shape it - and to plan it together. Digital moves fast, and we need your help in realizing our goals.
So what does a "Digital Performance Analyst" do?
The "analyst" part refers to something we profoundly believe in: data & analytics. You will use your analytical skills to obtain insights & craft excellent performance marketing strategies on AdWords, Facebook, programmatic & SEO - while executing them flawlessly together with the rest of the team.
You will have several clients assigned to you in terms of ownership, but you'll typically work in a team on each project. There are 8 of us, so we all work together.
As a digital performance analyst, you will spend a lot of time optimizing campaigns, reporting on them, diving into analytics & setting up A/B tests - but also on learning and studying new things, and sharing with the team what you have learned.  To summarize:
Analyzing & interpreting Analytics data
Defining the strategy for new campaigns/data driven approaches
Setting up & optimizing the campaigns (you are surrounded by a team that can help)
Preparing reporting & presentations
Meeting the clients & educating them
Assist in researching & writing white-papers & blogs
Participate in trainings & conferences
Give trainings & presentations ...The list goes on. We're a small team, and we move fast. What you put into it is what you get out of it.
Your profile and background
You have a first experience in either SEO, SEA, Facebook advertising, conversion rate optimization or marketing automation. Both client and agency experience is relevant.
Bilingual ENG/NL, FR/NL or EN/FR
Customer focussed with excellent problem solving skills
High tolerance for stress and ability to deal with strict deadlines.
Analytical mindset with attention for detail.
Passionately curious about all things digital
What you'll receive
A place in a digital performance marketing agency in full expansion with ambitious plans for the future, which you will help build.
That implies full transparency in our plans and financials.
A competitive salary & benefits. Daily lunch is provided by us.
There is no 'fixed' training budget. We discuss what you need together. Training & growth is simply a must.
Office within a 2 min walk of the subway, a large supermarket, a bpost point, a drycleaner, a hairdresser and plenty more.
About us
CLICKTRUST is a highly specialized digital marketing agency. We will always remain this way. We don't believe that one agency can do everything well, due to the speed of the evolution of the digital landscape. We believe in mastering the technical details of specific channels like pay-per-click & SEO, while connecting data and using technology to our advantage. Our high degree of specialisation allows us to dig deeper. We don't believe in traditional management styles & we are truly transparant. Our well-being and thirst for knowledge is what drives us. Oh, and we're all millennials. It works.
Interested? Send your CV and motivation to fabian@clicktrust.be